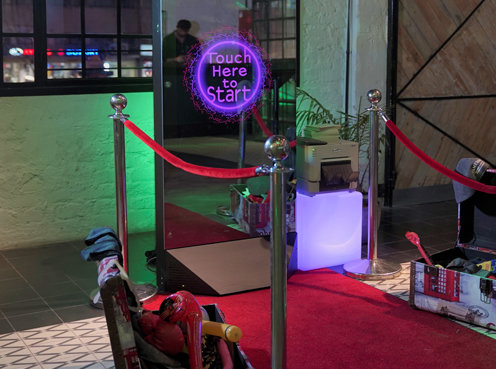 Xtreme Mirror Interactive Photobooth
Outlets: 2
Age Group: Any




THE NEWEST XTREME MIRROR INTERACTIVE PHOTO BOOTH
Especially Designed for Corporate Events, Birthdays and MUCH More....
Lone Star is proud to introduce the Xtreme Mirror -The newest addition in photo booths that is designed with corporate clients in mind but perfect for any occasion.
6 FT TALL, ALL-MIRROR TOUCHSCREEN DESIGN, THAT WILL TAKE YOUR NEXT EVENT TO THE XTREME!!!
The XTREME MIRROR PHOTO BOOTH is a unique photo-generating product offering the latest technology in interactive picture taking.
This full-length mirror offers a sleek design and a user-friendly interface, communicating with guests through a touch screen of colorful animations and entertaining voice guidance.
*****Minimum order of 2 hours, each additional hour is $250 per hour
*****Xtreme Mirror is setup indoors only*****
What is included-

*Interactive 6 ft Tall Full Size Mirror Booth

*Full Size Photos

*Instant Email and Text

*Interactive on Mirror Animation

*Sign the Mirror Option

*On Screen Photo Editing

*Photo Signing & Stamping

*Unlimited Photos Captured

*Setup
Additional options-

*Red Carpet Experience

*Customized Print Templates

*Custom Branding

*4X—6 Instant Prints on Site

*Custom Designed Photo Overlay

*Digital Copies of All Photos

*Interactive Games

*Green Screen Feature

*GIF Recording

*Event Photobook